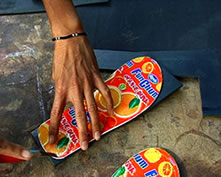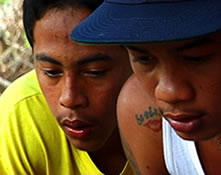 Bolsas y zapatillas justas (Fair Bags and Slippers)
Sally Gutiérrez 10' 2006
El video es parte de una instalación que consta de un puesto de venta con vídeo incorporado de 12 minutos de duración.Las bolsas y chancletas recicladas se hacen a partir de sobres de bebidas de plástico y aluminio, muy difíciles de reabsorber o desintegrar. La recogida de miles de sobres de basureros y de colegios es un trabajo de gran impacto medio-ambiental, a la vez que genera trabajo -desde recoger los sobres, limpiarlos, coser las bolsas, hacer la chancletas- justamente remunerado.
El video muestra esta economía alternativa presentado el contexto, los paisajes locales y las familias haciendo las bolsas y chancletas.

Fair Bags and Slippers 10' 2006
This video is part of an installation; a market stall with recycled bags and slippers for sale and this 10 ' video incorporated in the stall.
The recycled bags and slippers are made with juice brik packs made out of aluminium and plastic, very difficult materials to re-absorb or disintegrate. Picking up and recycling these materials from rubbish dumps and schools is an important environmental act, and it produces fair trade jobs: picking up the juice brik packs, cleaning them, and sewing the bags and slippers. The video shows this alternative economy as well as the local landscape and the families making the bags and slippers.

Nazareno Negro
Sally Gutiérrez 10' 2006
El Nazareno Negro es una pieza de diez minutos, con sonido original, rodado durante siete horas consecutivas en la procesión de Nazareno Negro, barrio de Quiapo, Manila, enero 2006.
Dicha procesión, uno de los eventos religiosos más importantes del país, es una muestra clara de cómo el sincretismo de las culturas, así como la larga historia de colonialismo y post colonialismo existentes en el pasado y presente Filipino (culturas malaya, española, norteamericana, japonesa y diversas culturas indígenas) han creado una hibridación particular, posmoderna y vibrante.

Black Nazarene 10' 2006
The Black Nazarene was shot during seven hours in the Black Nazarene procession in Quiapo, Manila, January 2006. This celebration, one of the most important religious events in the year, is a clear example of the syncretism of cultures, as well as the long history of colonialism and post-colonialism existent in the past and present of this country. (Malayan culture, diverse indigenous cultures, Spanish, North American and Japanese occupation) The video shown customs, anecdotes, details, the passionate devotion and the frantic rhythm of this unique, hybrid ritual.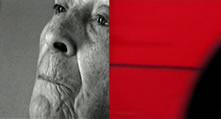 Manola coge el autobús 12' 2005
Gabriela y Sally Gutiérrez Dewar
¿Que hace una mujer de 88 años, viuda, para vivir en la actualidad y seguir siendo la protagonista de su vida? ¿Porque, si ha luchado toda su vida por sobrevivir, en su vejez debería desaparecer su interés por la vida?
¿Cómo es posible que una anciana sin estudios sepa más sobre su ciudad y los cambios arquitectónicos que la mayoría de jóvenes?¿Cómo mantiene el sentido de humor y el interés por su entorno una mujer que ha pasado una guerra civil, una posguerra con un pobreza terrible y ha perdido a dos de sus hijos?
Manola Coge el Autobús es el primer trabajo conjunto de la artista visual Sally Gutiérrez y su hermana, productora y directora de documentales, Gabriela Gutiérrez Dewar, con la intención de configurar entre ambas un género sereno entre arte y documental, a modo de poesía visual, que a su vez genere un cuestionamiento social a través de preguntas sin claras respuestas, ventanas de contemplación y reflexión.
Manola Gets the Bus 12' 2005
How does a widowed 88-year-old woman manage to continue being the protagonist of her own life-story? Why - after a life-long struggle for survival- should her passion for life disappear in her old age?
How is it possible for an uneducated, elderly woman to actually know more about her city and its architectural transformations than most young people?
Manola Gets The Bus is the first joint work by visual artist Sally Gutiérrez and her sister, TV producer and documentary director Gabriela Gutiérrez Dewar. The language it tries to develop represents an intersection between visual poetry and social questioning, aiming at opening windows for reflection rather than giving definite answers.
Cuatro días de Marzo 30' 2005
El Cuadrado (Agatha Álvarez, María José Espinosa, Stéphane Grueso y Gabriela Gutiérrez. España).

Cuatro Días de Marzo es un corto documental de 30 minutos que recoge día a días las reacciones populares de la ciudadanía frente a los atentados ocurridos en Madrid el 11 de marzo de 2004 . Opiniones, reacciones agresivas, clips de prensa, manifestaciones organizadas por fuerzas políticas y otras espontáneas. En la película, grabada del 12 al 14 de marzo, asistimos a las declaraciones del gobierno y a la respuesta inmediata de la sociedad civil.



Four days in March

Four Days of March shows the popular reactions of the people of Madrid to the 11 th of March Atocha bombings. It shows opinions, aggressive reactions, press clips and demonstrations organized by political parties and others that happened spontaneously. In the film, shot between the 12 th and 14 th of March 2004, we hear the government's declarations and the immediate response of the civil society.




Sally Gutiérrez
El trabajo de Sally Gutiérrez, artista visual, se sitúa en un campo que fluctúa entre arte y documental.
Tras licenciarse en Bellas Artes en la Universidad Complutense de Madrid se trasladó con una beca para la Facultad de Arte de Berlín (Hochschuele de Kuenste) ciudad en la cual vivío y trabajó antes de desplazarse a Nueva York en con una beca Fulbright en 1998, para realizar el Master de Estudios Mediáticos y de la Imagen en el New School University. En 1999-2000 fue becada en el Whitney Museum of American Art Independent Study Program y en el curso 2000-2001 disfrutó de la beca/residencia del Lower Manhattan Cultural Council; World Views en el piso 92 de las torres gemelas.
Sally Gutiérrez vive y trabaja entre Madrid y Berlín, donde está rodando material para el documental experimental Berlinblinks 89/09. En febrero de 2006 Sally Gutiérrez estuvo dos meses en Filipinas rodando material para una exposición y un documental artístico, con una beca de CASA ASIA-

Sally Gutiérrez participado en numerosas exposiciones, pases de video, festivales de documentales y de cine, tanto en Europa como en Estados Unidos, América Latina y Asia. Ha impartido clases en la New School University, en el Colegio Alemán de Madrid, ha dado charlas y conferencias en universidades, museos e instituciones.
Algunas de los festivales y exposiciones en los cuales ha presentado sus videos son: Conflicto / Pluralismo / Comunidad, Sala Rekalde, Bilba, Monocanal, MNCARS Madrid, MGAC, ARTIUM y otras itinerancias. Raw, Smack Mellon Studios, Nueva York, Cine y Casi Cine, Museo Nacional Centro de Arte Reina Sofía, Madrid, Digitales, Interface 3, / Amazone, Bruselas, Prime Time Declassemment, Festival de Vídeo, B-Books / Cine Movimento, Berlin. Globalism and Dislocaton, Los Angeles Film Forum en el Hammer Museum. Monitoring, Festival de documental de Kassel, Site Matters, New York Council of the Arts, etc, Mirador, O.K Center, Linz, Instituto Cervantes, Manila , Filipiniana , Conde Duque, Madrid, Festival Asia, Mercat de les Flors, Barcelona...
Sally Gutiérrez is a visual artist whose work is situated between art and documentary practise. After her art studies in Madrid Complutense University she moved to Berlin, participating fully in the art movement in the Mitte district of East Berlin. In 1998 she moved to New York with a Fulbright grant, completed a Masters in Media Studies at the New School University and was later a participant of the Whitney Study Programme of the Whitney Museum, New York. In 2001 she received a residency grant from the Lower Manhattan Cultural Council at the World Trade Center. Back in Madrid Gutiérrez worked on new international exhibitions and projects, in 2006 she travelled to the Philippines on a grant by CASA ASIA, Barcelona. Sally Gutiérrez has exhibited widely in Europe and the U.S, in art galleries, museums and art institutions. Her videos have been seen in numerous Film and Video festivals as in T.V programmes.
Gabriela Gutiérrez Dewar
Como productora en la Agencia EFE durante ocho años Gabriela Gutiérrez Dewar ha participado extensivamente en el mundo de la información, reportajes y documentales.
En cine ha trabajado con Norberto López Amado en sus cortometrajes El Bosque de los Espejos y El Espiritu de la Luna, como Jefa de producción. Con Ramón Fontecha ha participado en Dos Niños Solos y Franco no puede morir en la cama.
Gabriela Gutiérrez ha co-dirigido el documental Cuatro días de marzo con El Cuadrado y Manola coge el autobús con su hermana Sally, presentado en la SEMINCI 2005.
Después de co-realizar ocho capítulos de la docu-serie: Hipódromo, para Canal 4 con la su productora, Estación Central de Contenidos, ha producido el largo documental La Muñeca del Espacio y actualmente co-realiza otros seis capítulos de la docu serie Así Somos que se emiten en Canal plus. A su vez eco-realiza el documental La Torre y Tapologo, a Place to Rest, con su hermana Sally.
Gabriela Gutiérrez Dewar has developed her career as a television producer starting at EFE news Agency where she worked for 9 years From news she moved on to documentaries, producing at least 15 different programmes broadcasted on national and autonomic channels. She combined documentary production and direction with the acquisition of international TV formats such as Celador International's The People Versus, which she directed for Telemadrid as Madrid Reta . Gabriela Gutiérrez has co directed the documentaries Four days in March , with El Cuadrado Manola Gets the Bus with her sister Sally, and is currently working on the documentary Torre Sacyr
She is part of Estación Central de Contenidos an independent production company where she currently combines documentary production and direction with the acquisition of international TV formats.